At Thomas Tree & Landscaping, we offer a variety of tree services, from removal of trees, stumps, and debris, to pruning and planting trees. We use quality equipment and products, and our highly trained crew will ensure to make sure your yard is looking beautiful and your trees stay healthy and strong. Call us today to see how we can help you enhance your yard!
Thomas Tree & Landscaping specializes in tree removal, particularly when they pose a danger to the homeowner or others or are in an area that is difficult to access. Once the tree has been taken down, it will be cut up, chipped, and hauled off without leaving any debris behind. Tree removal can be a hazardous job, especially when it is close to your home, which is why we only use the safest methods to remove the tree without disturbing the surrounding landscape.
Pruning your trees on a regular basis keeps them healthy and beautiful. There are many different methods of trimming depending on the species and how you would like the tree to grow. We will remove dead, hazardous, or crossing limbs, as well as prune your trees back so they do not interfere with your house or other structures and shape them to your specifications.
Stump grinding offers a quick, cost effective method of stump removal that reduces damage to your lawn and impact to the surrounding landscape. We grind the stump 6 inches below ground level, and can also add top soil and planting grass to further enhance the look of your lawn. If you are planning on planting a tree in the same area, we suggest moving it a good distance away from the former stump to ensure proper root growth and health of the new tree.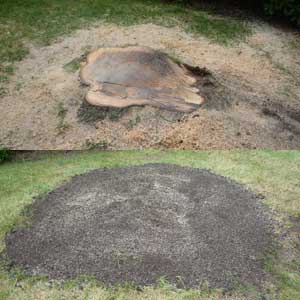 Have a home with a view? Vista cutting allows for proper pruning and trimming to create the perfect scenic view you desire. Two main techniques are utilized in order to reach the ultimate end goal- crown reduction and tree thinning. Crown reduction works especially well for views off in the distance, while tree thinning is perfect for water-front properties.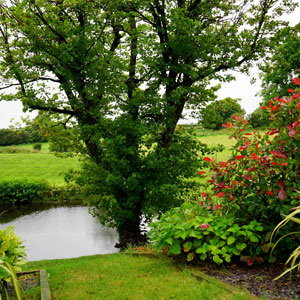 If tree branches or boughs are overgrowing and extending too far, they may be at risk of breaking which can cause damage to your home or yard and risk the health of the tree. In this situation, cable embracing can help to stabilize the branches. This is done by fastening a cabling system to the branches and tree trunk, providing extra support. Contact us to learn more about our cable embracing process and if it could be necessary for your trees.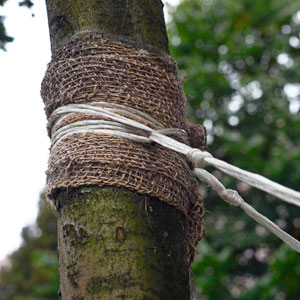 It's impossible to determine when Mother Nature will strike, which is why we offer 24 hour emergency services for storm damage and debris clean up. Our experienced crew will quickly and safely remove any damaged trees or debris in your yard. In the event of an emergency, contact us and we will come out to assess the situation and give you a free estimate.